Visit our Featured Property
Welcome to The Double Domes
Less than 15 miles from downtown Minneapolis
2 acres with waterfalls, streams, bridges
6 bedrooms, 5 bathrooms, 7,787 square feet
Vacations, family reunions, corporate retreats
Walk to Bryant Regional State Park
Community is in our nature
---
Community support: Fishing Has No Boundaries.
RentMinnesotaCabins.com is a proud sponsor of Fishing Has No Boundaries. They have expanded their cause to 11+ states, including Minnesota. FHNB are a non-profit 501-C3 organization whose goal is to open up the great outdoors for people with disabilities through the world of fishing.
"We believe through education, training, and the use of adaptive angling equipment, everyone is able to share in a dream come true."
We encourage you to check out their website and consider making a contribution yourself.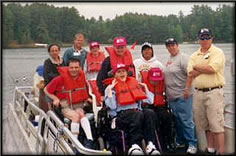 RentMinnesotaCabins.com is In The News
"New Vacation Rental Options" Ed Perkins on Travel April 3, 2017 - Tribune Content Agency
Featured in BizWire: JM Creative Group rolls out 6 state-specific, book direct vacation rental websites and tops 3 million page views. Plans for a minimum of 21 state websites.
"RentMinnesotaCabins.com Featured in Paper.li" Ely MN lodging, Resorts, Fishing Cabins Featured.
Wisconsin State Journal/Business: Featured Article. State-specific, vacation rental Websites that connects cabins with customers continues rapid growth as a no-booking-commission alternative.
Webcology podcast Mogensen, Founder of JM Creative Group talks about his first website RentWisconsinCabins.com. The company now has 7 regional websites including RentMinnesotaCabins.com
Looking to compare cabin rentals outside of Minnesota?
Check out our growing collection of state-specific, vacation rental only websites:

Wisconsin Cabin Rentals Including Eagle River, Wisconsin Dells and St. Germain.
Michigan Vacation Rentals Find Lake Michigan, Lake Huron and Lake Superior vacation rentals. New York Vacation Rentals Compare vacation rentals in Lake George, Finger Lakes, Adirondacks and more. Montana Cabin Rentals Compare a growing selection of cabins and vacation rentals in Montana. Cabins for rent in Tennessee Compare a growing selection of Tennessee cabins.